Pilates Classes Online – Feature – Reformer on the Fuse Ladder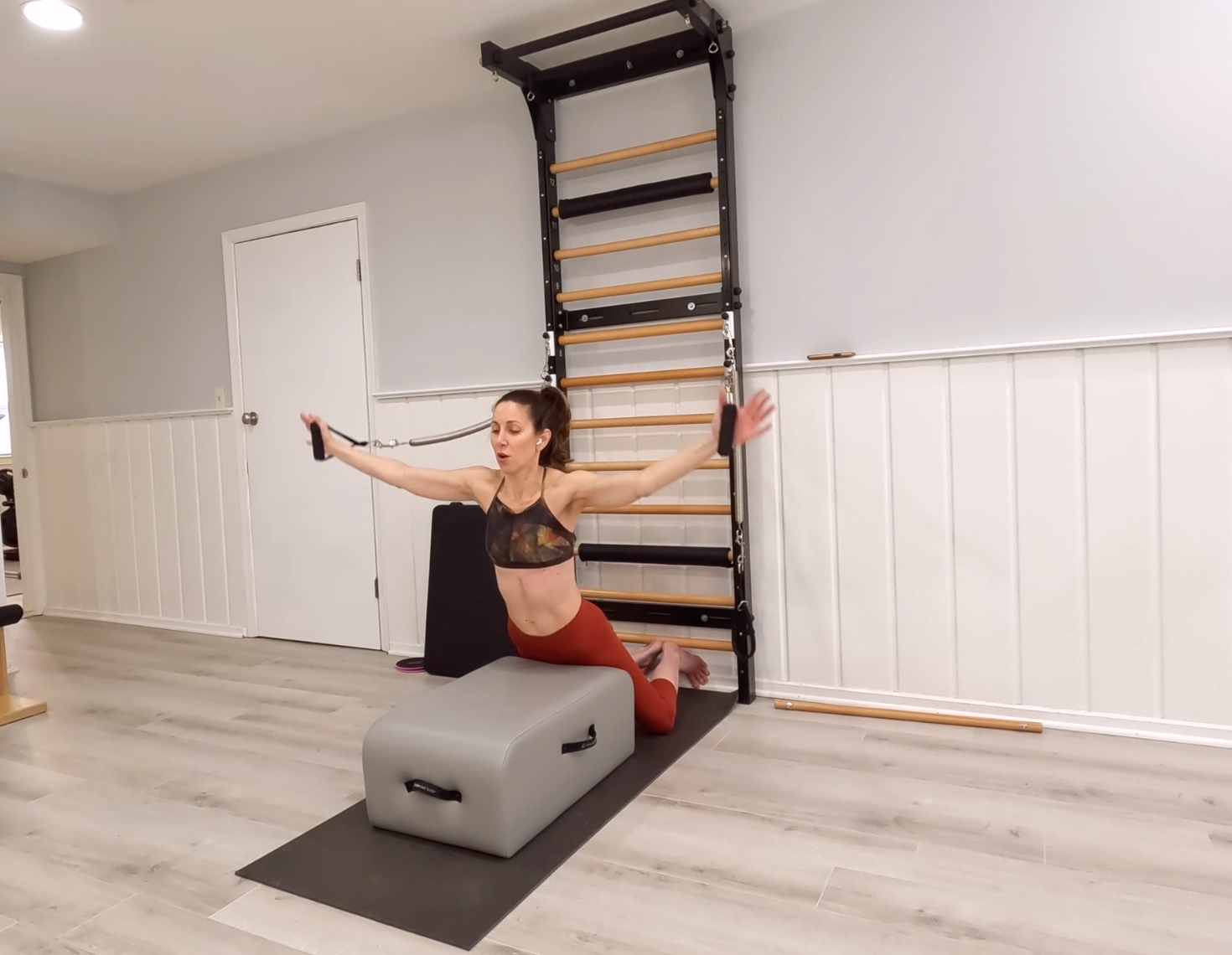 Looking for Pilates classes online? 
Fuse Ladder hosts teacher trainings online and in-person, and we also have Pilates classes online for owners and those people who are Fuse Ladder-curious and want to see some of the things that it can do.
Isn't the Reformer THE Pilates machine?
Bar none, the most popular piece of Pilates apparatus is the reformer. The reformer consists of a carriage and straps, connected to a frame with springs. Depending on the brand of reformer, some will have different resistance for the springs, and others will have all springs of one weight. The more springs you connect to the frame – the heavier it will be.
Heavier doesn't necessarily mean harder, though. Sometimes heavier can make something more supportive or keep the carriage from moving at all, as you would want in certain exercises like the short box abdominal series.
Reformers are big. Fuse Ladder is space saving and versatile. 
What if you don't have the space for a reformer? Sure, you could use therabands or gliders (boring). But the Fuse Ladder can do most of the exercises from several of the Pilates apparatus (and we have Pilates classes online to show you how) and exercises that none of the Pilates apparatus can do. The Fuse Ladder is a combination of a Pilates tower, stall bars, Ped-o-Pull, and it has an overhang that can do a lot of the Pilates Cadillac exercises.
It can also do Pilates reformer exercises. (What?!)
In one class that can be found on our Pilates classes online website, Mariska Breland shows off some of the ways you can use the Fuse Ladder for a workout featuring exercises typically taught on the reformer.
Sure, it will feel different, but in a lot of ways, the Fuse Ladder version is harder. Instead of lying down, you're working against gravity. Footwork becomes full body when you do it standing on the ladder.
Some exercises are even better, like this variation of breast stroke (an exercise routinely voted a least favorite of Pilates aficionados.)
To try this class and dozens of others, you can join our Pilates classes online studio for free. Just click this link to start your free trial.
---