Announcing the Best Pilates Tower - The Fuse Ladder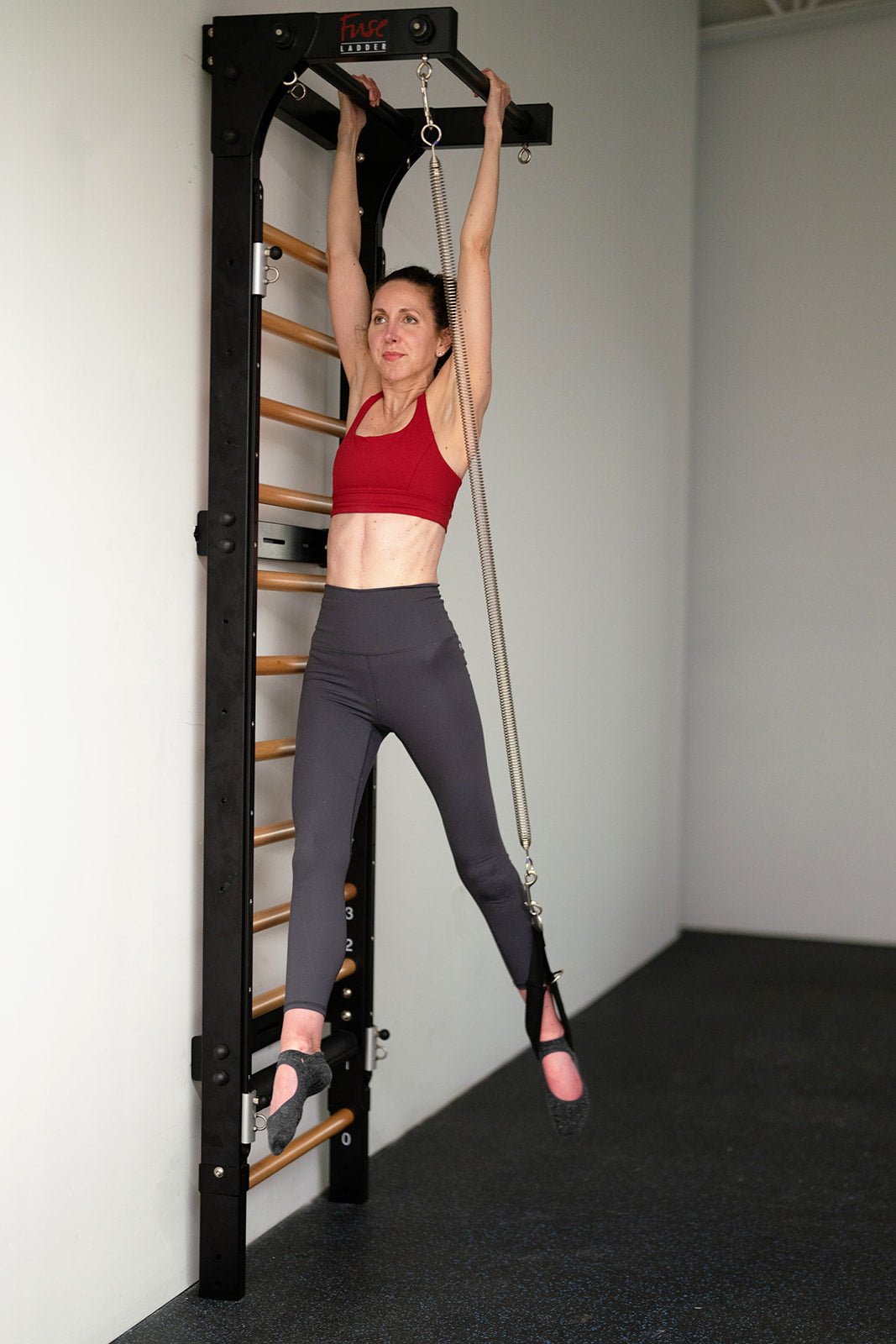 The past two decades I've used Balanced Body Pilates towers and springboards and, occasionally, Stott Pilates or Align Pilates wall towers. I consider myself a bit of an expert on the subject. I have been teaching students Pilates tower exercises since 2005 as a Pilates teacher, including as a workshop instructor traveling around the world since 2013, and as a guest teacher on Pilates Anytime – also since 2013. Here is my take on the best Pilates tower! 
ABOUT THE PILATES TOWER
Pilates towers (a.k.a. "wall towers") are less well known than reformers, but they are ideal for doing classical and contemporary Pilates exercises. You can do standing exercises more safely than on the Pilates reformer, as well as exercises from seated or from the ground, adding spring weight resistance to help build strength and flexibility.
But Pilates towers haven't changed much since Joseph Pilates built the Cadillac, and then when early Pilates manufacturers realized that most people don't have space for an apparatus the size of a bed (the first version was actually built on a bed), they started to make versions that only represented one side of it (but put all of the attachments on that one side).
When I decided to make my own Pilates tower, I wanted it to be something different. Enter Fuse Ladder. Fuse Ladder isn't just a Pilates tower, it's the best Pilates tower for personal or studio use.
WHAT MAKES FUSE LADDER THE BEST?
It is also stall bars (a.k.a. "Swedish Ladder")
It has pull-up bars
That pull-up bar frame doubles as a Ped-o-Pull
It has attachments for suspension equipment
It has 27 attachment points
Most of those attachment points can be moved along the vertical frame with springs attached
It takes up less wall space than most Pilates towers
It costs less than Balanced Body's Pilates tower + mat
You can do exercises on it that no other equipment can do
WHAT CAN FUSE LADDER DO?
Pilates
Cardio
Calisthenics
Yoga
Strength Training
Mobility
Barre
Plyometrics
Rehab training
Balance
And more (like this exercise that you normally only see on a Pilates Cadillac or gymnastics rings)
Looking for the push-through bar? We have one of those, too. You just have to attach it when you want to use it. Take it off and get it out of the way when you don't.
Best Pilates Tower
Now you know more about why the Fuse Ladder is the best Pilates tower on the market! To learn more about why we created the Fuse Ladder and how it might benefit your studio, you can check out our webinar here.
Stay tuned for more posts telling you all about the Fuse Ladder, and to see it in action, check out our YouTube site, our on-demand site for workouts or purchase on our store.
---